There have been 11 positive cases
Laing O'Rourke has confirmed that 50 members of staff are isolating after a covid-19 outbreak at its £1bn Edinburgh St James project.
Some 11 workers at the shopping centre development in the Scottish capital have tested positive for covid and another 39 are self isolating, the contractor has confirmed.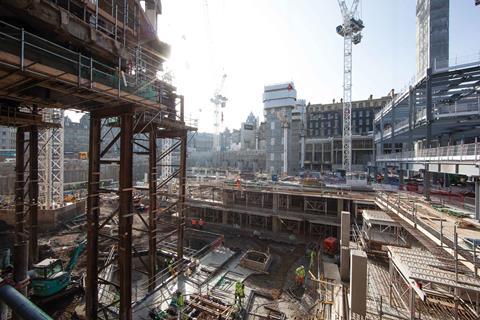 A spokesperson for Laing O'Rourke said: "The safety of our workforce is our priority. Since the start of the pandemic we have focused on adapting our sites, making numerous changes to make them covid secure, amending procedures that go beyond Scottish guidance for construction activities.
"The project has been inspected by national statutory bodies, Scottish government and xouncil representatives who have confirmed the effectiveness of the measures.
She added that when an individual tests positive for the virus it is mandated that they self-isolate immediately.
She added: "We also move expediently to implement track and protect procedures. The contacts of anyone who has tested positive are required to leave the project and isolate.
"Work in the zone in which the individuals who tested positive were working is then paused to enable the area to be deep cleaned before work resumes safely."
There are around 1,000 workers on the St James Quarter site, which is set to open the first phase of its retail, dining and leisure elements in the spring.
It is the second covid outbreak on a Laing O'Rourke site in the past month, after 26 workers tested positive in just over a week at the Royal Liverpool Hospital site in January.