Firm eyes more negotiated work to help it hit 5% margins target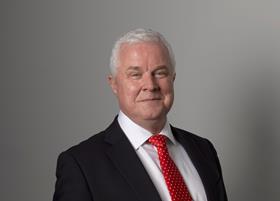 Laing O'Rourke has said it is targeting more negotiated contracts as it looks to lift margins to an industry-beating 5% and return the firm to the black after posting another year of losses.
The country's biggest private builder narrowed losses in 2018 but continuing problems with a PFI hospital contract in Canada helped keep it firmly in the red for the third successive year.
Laing O'Rourke said it has now lost £206m on the Centre Hospitalier de l'Université de Montréal (CHUM) project, which the firm is delivering in joint venture with Spanish contractor OHL, after it racked up a £26.4m hit on the scheme in the year to March 2018.
This and the cost of completing the refinancing of the UK business (see box) helped send Laing O'Rourke tumbling to a £43.6m pre-tax loss last year – although the figure was down on the £67m loss for 2017 and well below the £246m pre-tax loss it was forced to wear in 2016.
Finance director Stewart McIntyre, who signed off the accounts last Friday, said the firm had now drawn a line under the amounts it was haemorrhaging in Canada and added: "We will make a pre-tax profit next year." The firm said it has an £8.1bn pipeline of work.
McIntyre said the firm was targeting more negotiated contracts and confirmed it was disappearing from tender lists as part of a strategy which is targeting gross margins of 10%.
"We will not trade at anything less than 10%," he said. Cutting the amount of competitive tendering would save it £15m a year and see it grow margins to around 5%.
"We're confident we'll get there by being more efficient and selective," he told Building. Around half of its £1.8bn UK turnover is now won through negotiated work with McIntyre adding it wanted to increase this percentage further.
The firm pulled out of bidding PFI deals more than two years ago after its chastening in Canada and on several schemes in the UK.
The firm sold its stake in the CHUM project for £32m during the period and has since sold a stake in a PFI hospital scheme in Dumfries & Galloway for £16.5m. It now only has two PFI stakes in the UK – a schools scheme in Yorkshire and the Alder Hey children's hospital in Liverpool – which McIntryre said could also be sold.
McIntyre admitted the CHUM scheme had been the "single biggest driver of losses over the last three years" and said the issues it faced included working in a country it didn't know for a client and architect it had never worked with before.
The firm also said it had lost just over £40m on a huge gas station job in northern Australia over a pay dispute with its Japanese partner which cost it £3m in legal fees during the period.
The contractor was building four cryogenic tanks at the LNG Tanks Project in Darwin for lead construction partner Japanese firm Kawasaki Heavy Industries. McIntyre said it has put in a number of claims on the scheme but arbitration, which began last June, may take up to three years to resolve.
McIntyre said the firm had been contingency planning for a no-deal Brexit, although added the impact would be "minimal". Just over 16% of its 12,800 staff, down from 2017's number of 15, 273, are from the EU – with close to a quarter of the 16% coming from Ireland who have settled status.
But McIntyre said it was "very disappointing" UK business still had no idea over the terms of leaving the EU next month and warned against extending the deadline to leave. "It just perpetuates the uncertainty," he said. "My own view is there will be a deal of some sorts but it should have been sorted out by now."
Revenue at the group slipped from £3.2bn to just over £2.9bn with two thirds of this coming from its Europe hub, which includes the UK, UAE and Canada. Its Australian hub, headed by group chief executive Ray O'Rourke's son Cathal, saw workloads slip from £922m to £812m.
Having now filed its group accounts, Laing O'Rourke, which is registered in Cyprus but whose ultimate parent is British Virgin Islands-registered Suffolk Partners Corporation, is expected to file accounts for its individual businesses, including its largest, Laing O'Rourke plc, at Companies House over the next couple of weeks. These were due at the end of September, more than four months ago.
The group accounts also reveal that back in September 2017, Laing O'Rourke changed where it is registered for tax from Cyprus to Jersey and McIntyre said it would switch its registered office from Cyprus to the Channel Island later this year.
UK refinancing deal agreed
The firm said it has now refinanced its UK business with a £177m revolving credit facility in place until the end of 2021. The firm said it spent a further £8.2m on the refinancing on top of the £11.6m it forked out in 2017.
Finance director Stewart McIntyre said signing off the refinancing deal had been one of the reasons for the delay in filing its accounts, which should have been sent to Companies House by the end of last September.
He added: "The delay was driven by the extensive assessments on all contracts, warranties, claims and Brexit implications by banks, sureties, other financial stakeholders and their advisers (EY, Grant Thornton) and our auditors PWC against the background of the recent severe challenges faced by the construction sector."
The firm said it raked in £90m during the year from disposals, including its stake in the Canada PFI hospital for £32m along with its precast concrete business Bison Manufacturing to materials firm Forterra for a profit of £9.7m. It made £7.9m on the sale of its Select plant business.
McIntyre also promised that it would get the amount of time it takes to settle its bills down from the current 53 days to below 50.