Contractor's full results reveal profit slipped to £23.4m as revenue edged up 6% to £3.5bn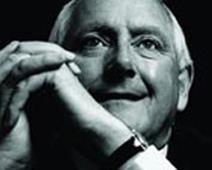 Laing O'Rourke's pre-tax profit has fallen 22% to £23.4m for the financial year ended 31 March 2012.
The contractor – whose highlight of the year was the successful delivery of the London 2012 Olympic Park as part of the CLM delivery consortium – saw revenue edge up 6% to £3.5bn over the period, up from £3.3bn the previous year.
In its annual report released today, the firm disclosed its Australia-based business – which also covers Hong Kong, New Zealand and South-east Asia – grew at a faster rate than its Europe-based business – which also covers Abu Dhabi, Canada, Dubai and Saudi Arabia.
The Australian division grew its revenue to £1.5bn from £1.3bn, while the European business edged up to £2.8bn from £2.7bn.
Laing O'Rourke chief executive Ray O'Rourke said sales growth would be "a challenge" next year – but he added he was confident of increased activity in selected international markets.
O'Rourke said: "We are confident that 2013 will bring stronger activity, with China and the emerging nations continuing to drive their aggressive economic development plans.
"We expect major government and private-sector investment to continue in development territories in Australia, Canada and Hong Kong, where we are well-placed to generate substantial business, alongside demand from Qatar, where investment to boost international trade is increasing."
He added he was "particularly gratified" that the firm was involved in the successful delivery of London 2012 venues and infrastructure and the company was "honoured to be involved".
In a statement released earlier this month, the firm said its managed revenue rose to £4.3bn for the period, up from £4bn the previous year. A company spokesperson told Building that this figure included its share of joint ventures.
The statement also revealed pre-exceptional earnings before interest and taxes rose 5.3% to £54m, up from £51.3m the previous year.
The firm disclosed that its total staff numbers fell to 14,747 from 14,964, but the overall remuneration for staff increased to £733.9m from £711.9m the previous year.