Company says public sector needs to pull socks up over settling bills
Laing O'Rourke has said public sector clients need to settle their bills more quickly if tier 1 contractors are to avoid running out of cash.
The country's biggest private builder complained clients were continuing to take their time in paying up, singling out slow payers in the public sector.
The comments come as it emerged this week that the firm has improved the average amount of time it takes to pay its suppliers from 52 days to 34 days.
In a note made in the latest report and accounts of the contractor's largest division, Laing O'Rourke plc, which have now been filed at Companies House, O'Rourke said lending to tier 1 firms and subcontractors had reduced "due to a loss of appetite for the sector by UK banks" and the dwindling availability of bonding and guarantee facilities.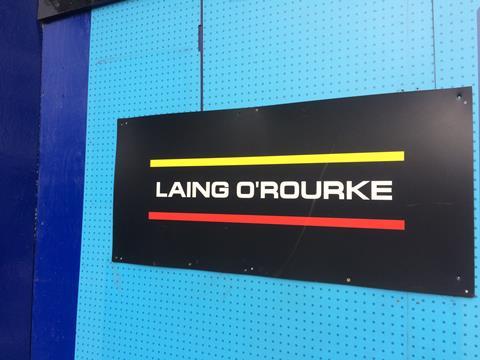 But it added: "At the same time that we have seen this pressure in lending capacity, we have seen a continuation in a traditional approach to payments to tier 1 contractors by many of our clients, particularly within the public sector.
"Tier 1 cashflow is particularly sensitive to the length of time taken to agree and settle change and variations.
"All parties involved in the sector must collaborate to provide a modern approach to payments and providing adequate working capital to avoid the current hand to mouth trickle down of liquidity."
The accounts show that Laing O'Rourke plc returned to the black last year after racking up four successive years of pre-tax losses.
The Laing O'Rourke group business made a profit in the year to March 2019 after managing to stem losses on a disastrous PFI hospital contract in Canada.
The divisional performances of the £2.7bn business are now emerging and the results for Laing O'Rourke plc reveal it made a pre-tax profit of £32.7m after a £25.2m loss last time.
Revenue during the period increased from £1.8bn to £1.9bn.
Laing O'Rourke plc covers its operations in Europe, Canada and Abu Dhabi and includes over 100 subsidiaries including plant hire firm Select and M&E contractor Crown House as well as shares in PFI hospital schemes including Liverpool children's hospital Alder Hey.
It said it had "successfully derisked" the Centre Hospitalier de l'Université de Montréal (CHUM) in Canada and "was not expecting any further losses". The firm has taken a £206m hit on the job which it won in joint venture with Spanish contractor OHL.
It also said the business had forked out £8m on refinancing costs and redundancies during the period.
In February, the firm completed a refinancing with a renewal date of 31 December 2021.