Social housing firm says recovery programme still ongoing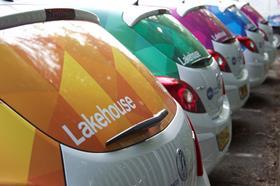 Social housing contractor Lakehouse reduced its pre-tax losses by more than £30m last year.
The firm reported a pre-tax loss of £3.1m for the year ended September 2017, down from the £35.6m loss it recorded in 2016.
It attributed the loss to writedowns of £8.6m, which included a £2.6m loss from the firm's move to AIM last May, investigating potential strategic options and restructuring of the group and relocating to smaller offices in Romford.
A further £3.2m writedown stemmed from the its smart metering activities and the exit of unnamed difficult contracts being delivered by its external property business, which it completed in October.
But the firm did make a £5.4m profit on the £12.4m sale of its white-collar energy consultancy business Orchard Energy, which it acquired in 2015. Group revenue was down from £327m in 2016 to £299m.
Lakehouse started restructuring its business at the end of 2016 after a turbulent year which saw three profit warnings, the resignations of two chief executives and a shareholder revolt led by the late Steve Rawlings, the firm's founder.
It said the sector had seen further challenges in 2017 following the fire at Grenfell Tower last June, which saw clients refocus their budgeted spends on areas of high risk within their property portfolios. Lakehouse added the collapse of Carillion brought further uncertainty to the sector.
Bob Holt, chairman at Lakehouse, said: "We have taken significant steps forward this year, expanding our activities within energy services and compliance, taking a steady approach in construction and downsizing and repairing property services.
"Our focus remains on operational improvement within the group, but we can now start to consider strategic development.
"We do not expect to return to a significant acquisition strategy, albeit we can never rule out the right deal, instead focusing on organic growth in our core growth markets within energy services and compliance, which have considerable bandwidth."