Six new executives buy into the company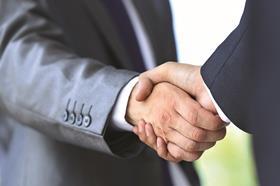 Specialist cladding and roofing contractor Lakesmere has undergone a second management buy-out, led by six members of its executive management team.
The firm announced this morning that six of its executives, led by finance director Mark Johnson, have bought into the company.
The firm's managing director Mark Davey - who led the first Lakesmere management buy-out in 1993 from contractor Walcon - is now a joint owner of the company, after selling a percentage of the business to the six executives.
Davey will move into the new role of chairman of the firm and Lakesmere said he will "continue to play an active role in the business" and "aid in the future development and mentoring of the new board".
Lakesmere said the MBO was "in line with the company's leadership development plans".
The other five members of the MBO deal are: Matt Nicholson (managing director for Lakesmere South) David Gray (managing director for Lakesmere North), Ted McMullen (managing director, McMullen Facades), Ed McKenzie (commercial director, McMullen Facades) and Ronnie Mills (technical director, McMullen Facades).
Commenting, Davey said: "The senior management team have worked for Lakesmere for many years and it gives me immense pleasure to recognise the commitment and hard work they have invested into making Lakesmere the industry leader it is today.
"We continue to grow in a careful and controlled manner and the business is, and will continue to be in safe hands."
Johnson said: "It was always our intention to introduce a strategy in Lakesmere that would aid future development and drive further integration across all our business units.
"Operationally things will remain unchanged however the MBO will provide additional strength to the Group board, establish a clear career path for our senior staff and continue to protect the interests of all our stakeholders".