Specialist cladding and roofing contractor invests in new production facility to service expansion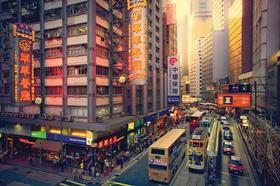 Specialist cladding and roofing contractor Lakesmere has won its first contract in Asia, providing roofing on part of the massive 50km Hong Kong-Zhuhai-Macau Bridge project.
Lakesmere has been appointed by the bridge's joint contractors Leighton Asia and Chun Wu to install roofing on a passenger clearance building at the Hong Kong end of the bridge, where people entering and leaving the semi-autonomous city state will be required to clear customs and immigration.
The $10.7bn (£7bn) bridge will link Hong Kong with the Chinese cities of Macau and Zhuhai.
Lakesmere's works will include the design, procurement, manufacture and installation of the 45,000m2 double curved roof to the passenger clearance building.
Lakesmere's overseas operations were previously limited to the Middle East, where it has operated since 2006.
Lakesmere has expanded its production factory in Winchester to service the firm's growth, with the launch of a new metal fabrication manufacturing facility that will produce a range of roofing and cladding products, including customised fabrications, gutters and panels.