Sister firm McMullen Facades falls into administration and is rescued within the week, as new business poised to take on Crossrail work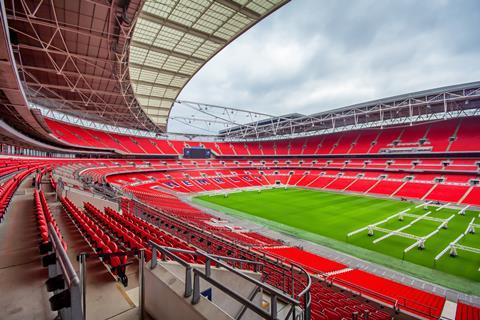 The saga of collapsed cladding contractor Lakesmere took a new turn this week as further details began to emerge of problem jobs and its McMullen Facades business was rescued out of administration yesterday by concrete frame contractor JRL.
Lakesmere, the country's largest cladding and roofing firm, is understood to have run into problems on work at Wembley stadium as well as a contract at London Bridge station.
It is also not clear whether the firm had been paid for some of its overseas projects, which include the King Abdulaziz International airport in Saudi Arabia.
Last year it was reported by Reuters that the main contractor on the airport job downed tools after the government stopped paying it.
In its 2016 accounts Lakesmere said that money was more than 12 months overdue to it on "certain international projects" and that there was "some risk" that £4.5m on one specific job would not be paid.
Sources close to the business also point to the effectiveness of a management buyout (MBO) completed at the end of 2015.
When Lakesmere went into administration three weeks ago, administrator Deloitte blamed its demise on a "number of unprofitable contracts", which are understood to include its Wembley job.
Lakesmere was replacing the original roof sheeting at the stadium, alongside main contractor Multiplex. But sources have said the job had become a "problem job". Multiplex declined to comment.
The Football Association confirmed that works on the job are "ongoing" and that it is liaising with Multiplex, which is dealing directly with Lakesmere.
On the redevelopment of London Bridge station, Network Rail confirmed "there was a problem with how the cladding had been installed and longer-term concerns over its durability", and since August main contractor Costain has been carrying out remedial work.
Questions are also being asked about the impact of an MBO, led by group finance director Mark Johnson and completed two years ago. This saw company founder Mark Davey relinquish the chief executive role, becoming chairman and international CEO.
According to documents filed at Companies House, Johnson stepped down from the business last month – just over two weeks before it went into administration.
Johnson could not be contacted, while Davey was not available for comment.
Lakesmere was working on a host of high-profile schemes when it fell, including a number of Crossrail station schemes. This week a deal that will see a new business led by Davey take over key Crossrail contracts only was being put together. An announcement on this is now set for next week, having appeared to have been held up by the McMullen administration.
Founded in 1971, the firm was bought by Lakesmere five years ago and its boss Ted McMullen became group chief executive of Lakesmere following the 2015 MBO.
Hertfordshire-based JRL, which is working on a 75-storey tower at Canary Wharf and is best known for its concrete frames business J Reddington, snapped up McMullen for an undisclosed fee. Explaining the move, a spokesperson for the firm said the deal "gives us the capability to offer a 'structure and envelope' package".
Joint administrator Peter Allen, a partner at Deloitte, said McMullen had been "affected by cash flow issues in the wider Lakesmere group" and added that the deal with the £289m turnover business had saved the jobs of all 270 staff.