Developer's profit halves but firm remains confident on London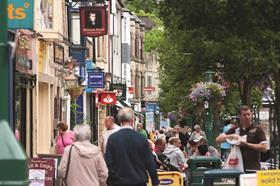 Land Securities chairman Alison Carnworth believes some of Britain's high streets "may never recover", as the developer posted a 58% drop in profit for the year ended 31 March 2012.
Carnworth said the negative impact of the recession on consumer spending could have an irreversibly negative effect on "certain high streets and tertiary [retail] locations".
The developer added concerns over the UK and eurozone economies had "weighed" on performance of both the UK retail and commercial sectors, as its profit fell to £515.7m from £1.2bn the year before.
Eurozone uncertainty had also led to "lower demand than expected for office space" in London, the developer said.
But Land Securities chief executive Robert Noel, who replaced former boss Francis Salway last month, said the developer was confident its strategy of pushing ahead with London schemes ahead of its competitors would come good.
Noel said particularly low levels of development in the capital – coupled with a high number of lease expiries due from 2013 – would lead to "supply-constrained conditions".
He said: "Due to subdued business confidence, these conditions are taking longer to appear than first thought, but once here they should continue for longer."
Land Securities is currently constructing a number of office developments in London, including the 38-storey 20 Fenchurch Street tower, dubbed the "Walkie Talkie", with joint venture partner Canary Wharf Group.
Reports this week suggest Land Securities is close to signing up its first tenant for the building, which is currently the largest speculative London office scheme under construction.
The developer has continued to make progress in securing tenants for its largest under-construction shopping centre – the £350m Trinity Leeds scheme – which is now 77% pre-let.
Noel said: "The outlook remains uncertain but we will continue to use the competitive advantage offered by our financial resources to deliver on our plans and exploit opportunities as they arise."