Developer reaps benefits of speculative developments in downturn but now wary of rising costs and competition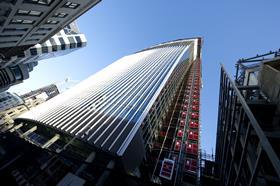 Land Securities is set to step away from speculative developments in London as increasing competition for sites and rising constructions costs increases development risk.
Announcing its results for the year to 31 March 2014 today, the developer said it was now reaping the benefits of developing speculative schemes through the down turn, such as the 20 Fenchurch Street, known as the Walkie Talkie, in the City of London.
The firm said the Walkie Talkie was "one of our most financially successful developments yet, has so far delivered a valuation surplus of £137m".
The firm said it had further developments committed with a total development cost of £551m
But the developer said that with the market picking up any new developments would now "likely" require a pre-let.
Chief executive Robert Noel said: "Land Securities is reaping the reward of its bold strategy to develop early and speculatively in central London.
"Our buildings are coming to the London market in the right locations, when competition is low and occupiers are actively planning to move.
"This strategy, together with a resurgent London market, has led to significant valuation gains, while our near fully-let retail portfolio has delivered strong cash flow and increased revenue profit.
"We will remain very busy in London as we press ahead with construction and de-risk the portfolio.
"We are confident about the prospects for our committed schemes. We also recognise that the risk profile of future speculative development is changing as competition for sites has increased, construction costs are rising, and development activity is set to pick up.
"As a result, any new development commitments in the near term are likely to require pre-lettings."