Legal & General enters joint venture to deliver £400m Cardiff Central Square masterplan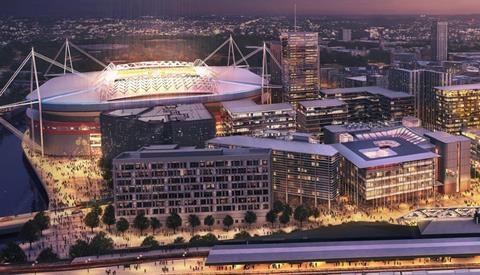 Legal & General (L&G) has formed a joint venture with Cardiff-based developer, Rightacres, to deliver the city's £400m Foster + Partners-designed Central Square masterplan.
The 12-acre site is part of Cardiff Council's regeneration schemes and is set to create 10,000 jobs. The first phase of the project will see the 150,000 sq ft BBC Wales HQ and a 135,000 sq ft office development – One Central Square – built with completion scheduled for January 2016.
Further phases will include a mix of commercial and residential buildings.
The deal is the second to be delivered through L&G's Regeneration Investment Organisation (RIO) partnership, which focuses on investing outside of London.
L&G previously invested in a £400m regeneration scheme in East Leeds which it will develop in partnership with Scarborough Group.
Chancellor George Osborne said: "Today we see a major vote of confidence in the Welsh economy with a new partnership between Legal & General and Rightacres.
"The £400m regeneration project which will be delivered through this partnership is fantastic news for working people across Wales and will help transform Cardiff's city centre creating 10,000 new jobs."
Phil Bale, leader of Cardiff City Council, commented: "Cardiff has a long established relationship with L&G, as one of the Cardiff capital region's major employers, and this latest news represents an exciting new chapter which clearly demonstrates their confidence in the region.
"Central Square is a major priority for the Council which will create a fabulous gateway to Cardiff and the rest of Wales."
Laura Mason, director of direct investment at Legal & General Capital, commented: "Cardiff has been hugely successful in establishing itself as real player in the inward investment arena and Central Square represents the most exciting regeneration scheme due to come forward in Wales.
Located in a prime city centre location, it is set to deliver major social and economic benefits, and proves the model for the public and private sectors working together in order to unlock real UK growth."
Paul McCarthy, chief executive of Rightacres, said: "Having a funding partner like Legal & General alongside us in Central Square will maintain the momentum we have been building around the scheme. L&G has a real understanding of the Cardiff market and they have demonstrated to us that they are able to react quickly to our proposals which will allow us to deliver the Central Square Masterplan over the next few years."