Scheme will run for 10 years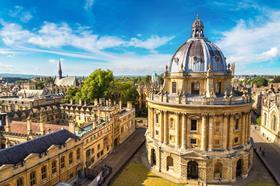 Legal & General has struck a deal with Oxford university to fund and develop £4bn of capital works over the next decade.
Oxford has one of the most expensive private rental markets in the UK outside of London, which can make it hard for the city to retain graduates and provide affordable accommodation for university staff.
In the first phase of the new development works, L&G is looking to deliver 1,000 subsidised homes for university and college staff, 1,000 graduate homes and a further 1,000 market homes.
Work under the deal will also include the development of science and innovation districts, with building set to provide new workspace and research facilities.
The move comes after the firm recently unveiled details of a £500m build-to-rent scheme it is building in London, as well as an ambition to build 3,000 affordable homes by 2023.