Edgware Road site will be home to 183 apartments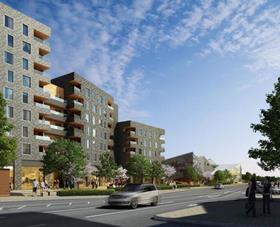 Housing association L&Q has signed a deal with Development Securities to fund the construction of a £150m scheme for 183 apartments at the controversial former Oriental City site in north London.
The two organisations have today said they have entered into a partnership to deliver the scheme at 399 Edgware Road which will see L&Q fund the construction and delivery and Development Securities act as development manager.
Development Securities said it estimated the deal would see it reap £12m in profit over the next three years.
The deal is in addition to that agreed with supermarket Morrisons for the same site last month which will see a new food store built on the site in the next year, alongside a car park and a 56,000ft2 far eastern retail quarter.
The site was previously the location for a large oriental supermarket and shops offering south east asian food and ingredients, with traders and local residents campaigning vigorously prior to the recession to prevent its closure.
Jerome Geoghegan, group director of development and sales at L&Q, said: "This agreement will help create a vibrant new quarter in north-west London, bringing together an exciting mix of new retail, community and educational facilities with the additional homes that London so desperately requires."
Michael Marx, chief executive of Development Securities PLC said the announcement was a "significant transaction" for the company. "The funding of the residential quarter and the Morrisons foodstore […] could realise combined profits of up to £17m in the near-term to the company from this previously non-income producing asset.
"The construction of these two phases of the project is now underway and once complete will deliver a flourishing legacy for the local community, with a comprehensive new mixed-use regeneration scheme on land that was previously vacant and derelict."