Three other cladding systems have so far failed the BRE's combustibility tests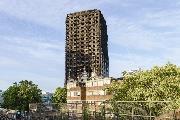 A cladding system using stonewall insulation has become the first to pass new fire safety tests ordered by the government, it was announced today.
The combination of ACM with a fire retardant polyethylene filler with stone wool insulation has been found to be compliant with the test, which was conducted last Sunday.
At least 13 buildings over 18 metres tall in England have this form of cladding.
While the overall system passed the fire safety test, the exterior panel itself has limited fire retardant properties.
The latest results are from the fourth in the government's series of large-scale fire safety tests being carried out by the Building Research Establishment (BRE).
Three other cladding systems tested in recent weeks have all failed, with more than 200 buildings covered in types of cladding that would be unsafe in the event of a fire.
Announcing the latest results today, the Department for Communities and Local Government (DCLG) said: "The government's Expert Panel advise that the results show that this combination of materials can be compliant with current Building Regulations when installed and maintained properly. It could therefore offer a possible solution for some buildings with other cladding systems which have been identified as a hazard."
However, it warned that the specifications of cladding and insulation materials can vary between manufacturers, and the way materials have been fitted and maintained can also affect the safety of the cladding system.
The DCLG added: "The clear advice from the Expert Panel is that building owners need to continue to take professional advice as to whether any remedial work is necessary to ensure the safety of their building."
The latest results are from an initial series of tests looking at different combinations of three types of ACM cladding and two types of insulation.
Each test involves building a nine-metre-high section of wall with a cladding system. This is then subjected to a replica of a severe fire inside a flat as it spreads out of a window, to see whether it meets the requirement to resist vertical fire spread.
The government announced this week that it has commissioned a seventh large scale test – testing ACM with fire retardant polyethylene filler and phenolic foam insulation – to "further build the evidence available for experts and building owners so they can make informed safety decisions."