Industry warns GLA's safety measure for lorries could cause congestion on London's roads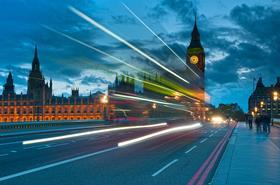 Industry experts have warned that the Greater London Authority's proposed introduction of a left-hand-turn ban for lorries to improve safety for cyclists could cause congestion and is unlikely to stop cyclists and lorries clashing on London's congested roads.
The Greater London Authority (GLA) announced plans last week designed to reduce the risk of cyclists and lorries clashing on London's congested roads.
The proposals include a requirement that lorries minimise left turns they make when driving to construction sites - proposed because many cyclist fatalities happen when lorries turn left at junctions.
Other plans include compelling lorries to have bigger windows to improve sightlines, and side guards to stop people being dragged under the wheels.
Bob Dempsey, operations manager at construction logistics specialist firm Wilson James, welcomed City Hall's ideas, but warned the left-hand-turn ban could prove "a colossal problem" for site managers planning lorry routes, adding: "If you're not allowed to do
a left-hand turn, you have to do a right-hand turn across traffic, which will cause major congestion."
Dempsey said specially designed "direct vision" lorries – designed with longer cabs and a lower driver position to reduce blind spots - were the way forward for the industry, but these were unlikely to be fully adopted until new emission regulations from the European Union come into force in 2020.
He added the GLA's proposed change would lead to lorries spending longer on the road with longer routes, and would leave no option for sites on one-way streets.
Peter Murray, chairman of New London Architecture and cycle safety campaigner, supported the GLA's initiatives but said he was concerned lorries would have to travel further, and that drivers might become distracted by additional mirrors and warning sirens: "These are complex issues not solved by a single silver bullet.
"What the mayor is doing is fantastic and should be supported, but when you've got six mirrors on a lorry, a video, a beeper going off and all sorts of things happening around you, it's very hard for the driver to know precisely what's happening."