Profit slumps more than half as firm counts cost of repair work at Oxfordshire job
Profit at Costain more than halved in the first six months of the year after the firm said it was forced to shoulder the costs of repair work at a scheme it completed more than a decade ago.
The firm had already flagged that pre-tax profit would be hit by a £9.7m cost to fix a roof at the £260m National Synchrotron facility in Oxfordshire which Costain's building business completed in 2006.
Costain has since pulled out of building but an arbitration made in favour of the facility's operator Diamond Light Source Limited earlier this year saw it hit for the cost of remedial works to the roof.
Costain said the sub-contractor who installed the roof would have been contractually liable for the repairs but went into administration in November 2017 – leaving it to foot the bill.
It added that delays to new work starting and the cancellation of one project, thought to be the M4 widening scheme which was pulled by the Welsh government in May costing the firm £500m-worth of work, meant pre-tax profit slumped 58% to £8.4m in the six months to June. Revenue during the period was down 22% to £599m.
It said that underlying operating profit for the full year would also be down, coming in at between £38m and £42m, meaning its 2019 figure could be off more than a quarter from last year's £52.5m.
New chief executive Alex Vaughan, who took over from Andrew Wyllie who stepped down after 14 years at the beginning of May, has launched a new strategy called Leading Edge which will see it target higher margin consultancy work.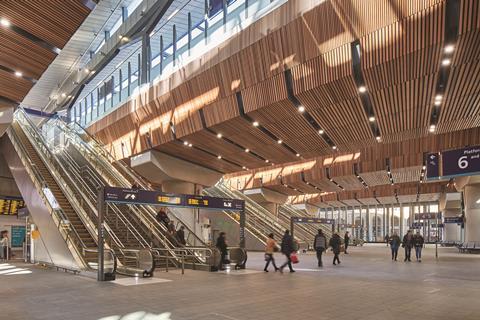 The firm, which completed work to upgrade London Bridge station, which has seen the scheme nominated for the Stirling prize, said it had reached "supplemental agreements" with Crossrail over its late-running work at Paddington and Bond Street stations on the route.
Last month Crossrail chief executive Mark Wild said the scheme at Bond Street, which Costain is carrying out with Skanska, was being flooded with resources to get it ready in order to allow trial running of trains along the route in the first quarter of next year. More than 500 workers are still on the scheme.
Costain's order book at the half year was £1.2bn, up from £900m a year earlier. Its cash balance at the half year was £40.8m, down from £77.7m which it said had been eaten into by the charge on the National Synchrotron project.