Ecobuild latest: Energy secretary Ed Davey opposes proposal for independent body to oversee infrastructure delivery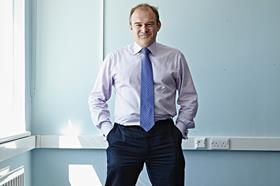 Energy secretary Ed Davey has said the Liberal Democrats support making energy efficiency a national infrastructure priority, in a move which chimes with a key aim of Building's Agenda 15 campaign.
Davey made the pledge at the Ecobuild conference this week, alongside a Liberal Democrat manifesto pledge to spend £2bn a year on a "green homes revolution." However, speaking to Building after his keynote speech, Davey said he did not support Sir John Armitt's proposal for an independent body to determine national infrastructure priorities, in a blow to a policy which has backing from Labour and the Agenda 15 campaign.
Davey told Building that the £2bn-a-year spending pledge, intended to help achieve an aim of retrofitting 10 million homes by 2025, would be made available from 2018-19. He added that it would be achieved through a mix of revenue and capital funding, saying: "I think a large amount of it will be capital but we will look at that." He also said the party would continue to support the warm homes discount and ECO initiatives.
Davey said: "When we sit back and look at the role that energy efficiency is doing, it is fundamentally an infrastructure investment, ensuring that our buildings will last longer."
The Liberal Democrats' support for energy efficiency to be a national infrastructure priority, with schemes included in the national infrastructure plan, is a major boost to Building's Agenda 15 campaign, which aims to secure support from politicians for eight key initiatives to help create a more sustainable, efficient built environment. This week, Mace became the latest major firm to back the Agenda 15 manifesto, meaning companies responsible for more than £7bn of UK turnover have leant their support.
However, Davey said he did not back calls for an independent body to ensure long-term commitment to the plan's delivery, saying he preferred politicians to be accountable for infrastructure decisions.
He said: "I don't think we can start having an independent group for this, independent group for that. Politicians need to be accountable for their overall record for election."
The Liberal Democrats could hold the balance of power once again in a hung parliament, making any opposition to an independent infrastructure body significant.
In his keynote speech, Davey said the Liberal Democrat manifesto will include a "green Magna Carta", made up of five planned green laws.
Davey also used his speech to launch the coalition's new fuel poverty strategy, including plans to make home energy efficiency improvements available on prescription.
Doctors will be invited to prescribe boilers, insulation and double glazing to patients they judge to be ill in part because of fuel poverty, with a £3m funding pot announced for this and similar energy efficiency pilot schemes.
Davey said the Liberal Democrats had had to "fight very hard" to ensure the energy efficiency agenda had been listened to in government, and said last month's introduction of legislation that will make it illegal for private landlords to rent out energy inefficient properties from 2018 was evidence of this: "I don't think it's any secret there are parts of government that are not so keen on them. But we've got them out and that's going to happen," he said.