Ecobuild latest: Skanska UK chief executive Mike Putnam among experts calling for greater engagement with public on retrofitting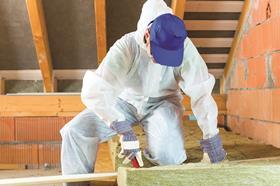 Industry leaders have urged the government to embark on a national retrofitting push, calling it the most effective way to cut carbon from the built environment.
At a debate hosted by Building on retrofitting at the Ecobuild conference, Mike Putnam, co-chair of the UK Green Construction Board and chief executive of Skanska UK, called for a greater focus on retrofitting, but acknowledged the industry would need outside help to better sell its appeal to the public.
Putnam said: "People like me to tend to be more comfortable talking about financial and technical merits, but we need help from people outside the industry who can communicate these benefits to the public."
David Frise, head of sustainability at the Building & Engineering Services Association, went a step further, saying the industry "sells it terribly" when it comes to retrofitting.
Frise argued that while better communication on retrofitting would help, a change in council tax to financially penalise energy inefficient properties was his preferred method of addressing the issue: "That would create a market, the best way to get households and firms to respond."
James Drinkwater, senior policy adviser at the World Green Building Council, agreed a greater emphasis on understanding consumers was needed: "We spend time mapping the energy efficiency of properties, but not mapping the public and their opinions on these matters."
Drinkwater said the UK should look abroad for examples to follow: "We can work with and learn from European partners on re-energising retrofit."
Lynne Syllivan, founding partner of Sustainable by Design and member of the Green Consutrction Board, argued: "There needs to be a real push for energy efficiency as something householders need to do."
She added the government has a bigger role to play: "Any incoming government needs to reexamine incentivisation for home owners. The regulatory framework is not supporting adoption of energy efficiency measures."