Stirling Prize-winners appointed alongside newcomers
Local practices and Stirling Prize-winners have been appointed to the first phase of a £1.9bn development in the centre of Birmingham.
The 17ha Smithfield Birmingham project is being masterplanned by Prior & Partners for Lendlease and will see more than 3,000 homes built as well as offices, hotels, cafes and community facilities.
Now the developer has named the architects who will be designing the first stage of the work.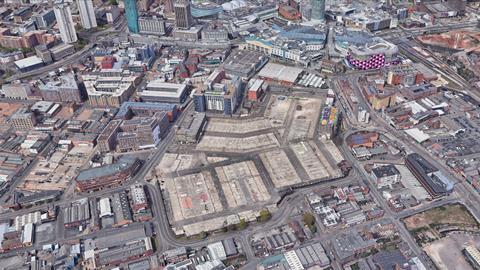 They are dRMM, Haworth Tompkins, RCKa and two local practices, Minesh Patel Architects and Intervention Architecture.
Patel trained at local practice Glenn Howells Architects and spent three years with O'Donnell & Tuomey in Cork before setting up on his own in 2019.
Intervention was founded by architect and Birmingham School of Architecture tutor Anna Parker in 2015.
David Kohn Architects was appointed two years ago to design the new market which will be the centrepiece of the regeneration project. The firm beat Shigeru Ban, Waugh Thistleton, 5th Studio, James Corner Field Operations, RSHP, Hopkins, Hawkins Brown and BIG.
Following public consultation starting next month, a planning application for the masterplan and phase one will be submitted to the city council. A timeline for this was not given.
Birmingham-based public art collaborative Eastside Projects is leading the engagement with market traders and customers to help inform designs for the new market.
The development of Birmingham Smithfield – the historic heart of the city next to the Bull Ring and New Street Station – is part of Birmingham's Big City Plan launched in 2010, which sets out a 25-year vision to help it become a "world-class city".