Caernarfon Castle to get £3.7m makeover including viewing deck and cafe
Grosvenor Construction has been awarded a £3.7m job to revamp the 13th century Caernarfon Castle in north Wales.
The Welsh government's historic environment service Cadw said the scheme, which will open up previously unseen parts of the castle (pictured) and restore its 700-year old towers, is one of the largest and most complex it has ever undertaken.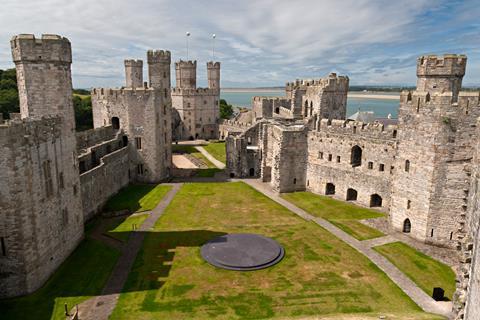 Built between 1283 and 1330, the grade I-listed castle, a World Heritage Site, was where Prince Charles was invested with the title of Prince of Wales in 1969. The title has been given to the eldest son of the reigning monarch ever since Edward II was born at the castle in 1284.
Rhyl-based specialist conservation contractor Grosvenor began work this week to erect 190 tonnes of scaffolding to gain access to the top of the 25m tall King's Gate towers at the entrance of the castle.
A new viewing deck at the upper levels of the gatehouse will also be built, along with a new cafe, toilet facilities, a gift shop, exhibition spaces and staff accommodation.
The scheme is scheduled to complete in early 2022, with the historic Watergate serving as the castle's temporary main entrance while works are underway.