Developer headed by ex-Barratt regional boss aims to exploit 'post-Brexit bounce'
London Square, the housing developer founded by former Barratt regional chairman Adam Lawrence, plans to double its new homes pipeline following last week's general election win by the Conservatives.
The firm aims to take advantage of what it believes will be a post-Brexit bounce and double the size of its development pipeline to £2.6bn, or 4,500 homes.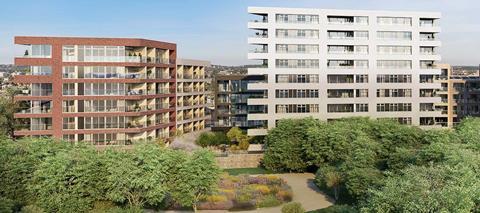 It plans to scale up delivery of 1,000 new homes a year, twice its current annual output.
Lawrence said that there was finally certainty following last week's comprehensive victory for the Tories.
"We anticipate a post-Brexit bounce in the market once the uncertainty of the past three years has lifted.
"We will now be pushing ahead for significant investment in the land market off the back of this result over the next two years, ready for the pent-up demand that will most certainly emerge," he said.
London Square, which Lawrence founded in 2010, builds private sale homes such as its Caledonian Road scheme in north London (pictured), mixed-used developments and residential schemes for the public sector. The group's non-executive chairman is former Barratt finance chief Mark Pain.
The group currently has 1,018 homes under construction, developing sites of between 50 to 500 homes that sell for between £200,000 and more than £4m.
Last year, London Square scored £150m in debt funding from NatWest, HSBC, and Allied Irish Bank GB and a £50m seven-year loan from investment firm Pricoa Capital.
The group posted a £6.2m loss in the year to 31 March 2019 versus a pre-tax profit of £8.6m in the previous year. Turnover fell 30% to £168m.