Central London home of film and TV charity set to be given £20m makeover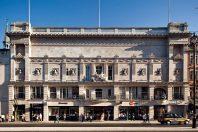 London firm Knight Harwood has added another plum job to its portfolio with the contractor confirmed as the winner of the scheme to carry out a major upgrade of the headquarters of the British Academy of Film and Television Arts in London's Piccadilly.
The company has worked on the Saatchi Gallery in Chelsea and the Royal Academy of Engineering in central London and the firm has now picked up the £20m Bafta deal at 195 Piccadilly (pictured).
The scheme has been drawn up by Benedetti Architects and will involve a comprehensive overhaul of the grade II listed building.
Knight Harwood beat remaining bidder, Northern Ireland-based Gilbert-Ash.
Pitches from Bam, which completed Argent's £100m Coal Drops Yard boutique retail development in King's Cross, designed by Heatherwick Studio, in the autumn and Willmott Dixon, which last month wrapped up work to overhaul Alexandra Palace in north London, fell earlier in the process.
Bafta wants the work to allow it to host more learning and new talent events with the redeveloped building enabling it to generate an extra £1m a year in income.
Others working on the scheme include planning consultant DP9, engineer Troup Bywaters + Anders and project management and cost consultant specialist Jackson Coles.