Housing association plans to build 11,000 homes by 2024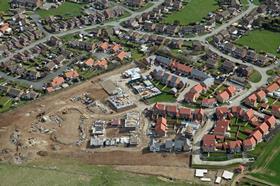 Hyde housing association has launched a search to find contractors to build 11,000 new homes over the next five years in a £2bn construction programme.
The London-based group currently operates around 50,000 homes across the south-east of England.
Hyde said it anticipated building around 11,000 dwellings of mixed tenures between now and 2024 and was after firms who had experience of delivering mixed-tenure schemes.
In a contract notice, Hyde said the work would be sub-divided into eight lots worth between £5m and £250m each, while the entire workload could be handed to one contractor.
Hyde said the scope of works required would vary from contract to contract but the overall programme primarily covered new-build residential works "with the possibility of some ancillary retail and commercial development".
Speaking to Building's sister title Housing Today, Guy Slocombe, Hyde's business development director, said it was planning to build the homes across London, the South-east and East of England.
Slocombe said: "Evaluations will start in mid-September. We expect that it will take eight to 10 weeks to carry out evaluations and conclude the contracting so anticipate that the framework will be live at the end of November or early December."
Companies tendering for the work have until 13 September to submit bids.