Benefits of FaulknerBrowns masterplan outweigh harm, says Sadiq Khan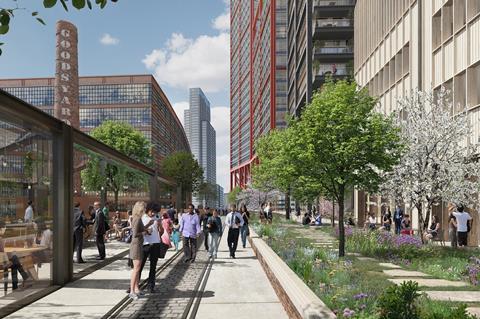 Sadiq Khan has approved Ballymore/Hammerson's controversial and long-running £800m proposals for Bishopsgate Goodsyard after a virtual GLA planning hearing this afternoon.
The London mayor's decision came after two hours of listening to planning officers, supporters and objectors and half an hour's deliberation – plus hundreds of pages of reports and almost 10 years of argument.
Summing up, he said of the proposals for the 10-acre City fringe site on the edge of Shoreditch: "The benefits of this development outweigh the negative aspects."
These included 500 homes at a time of housing shortage, many of them for "affordable" rent, "affordable" workspace at a time when there was as yet no evidence covid would permanently impact demand, public realm improvements and a park.
Some of the disadvantages he conceded included the scale of the development – which includes a 29-storey Eric Parry office block on Shoreditch High Street – loss of daylight in neighbouring properties and damage to heritage assets.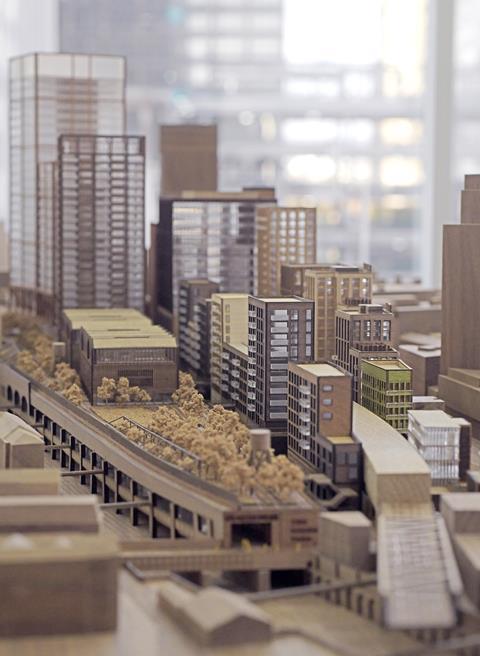 The brownfield site, which has lain empty for decades, has been masterplanned by FaulknerBrowns and includes individual elements designed by Parry, Buckley Gray Yeoman, Chris Dyson and Spacehub.
It was recommended for approval by the GLA last week.
An earlier iteration of the proposals, which featured 1,400 homes and taller towers by PLP, were called in by Khan's predecessor Boris Johnson in 2015 and withdrawn after GLA officers said they could not recommend it for approval.
In exchanges with planning officers and councillors from local authorities Hackney and Tower Hamlets – from whom decision-making powers had been taken by the mayor – Khan established broad agreement that the new scheme was better.
The scheme will provide 1.4 million sq ft of workspace in five buildings, including around 140,000 sq ft of affordable space.
The development will also provide a High Line-style public park sitting on top of the restored railway arches that will include a series of connected gardens, terraces and walkways.