Sadiq Khan says big housebuilders have been forced to increase bids for projects
London mayor Sadiq Khan has said builders could be forced to walk away from projects if the conditions produced by a no-deal Brexit make schemes untenable.
Khan (pictured) has warned that projects could be left abandoned across the capital if firms cannot secure access to appropriate resources should the UK crash out of the EU without a deal at the end of the month.
He said: "Builders will simply down tools if schemes become undeliverable.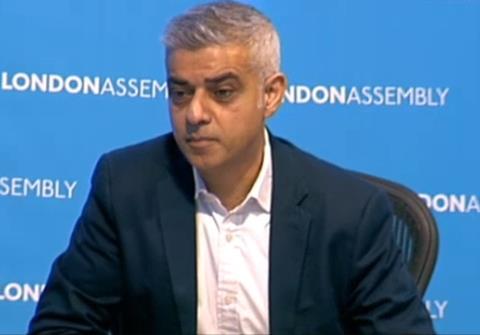 "The imposition of new tariffs, a weaker pound and new costs and delays for goods clearing customs will cause bill costs to rise, as well as significant disruption to the supply chain."
The comments came in response to a question from Assembly member Nicky Gavron during mayor's question time last week.
Khan added that housing projects across London were already starting to feel the pinch ahead of the impending 31 October deadline.
He said: "Our housing association partners have reported that the value of tenders from large, reputable builders have recently shot up in anticipation of our departure at the end of the month.
"This is due to increasing risk premiums, the cost of transport and warehousing, and in some cases, a predicted shortage of labour. Reduced availability of construction materials is another factor in a toxic mix."
Khan went on to say that developers have serious concerns about being able to get the materials they need to complete projects.
He said: "The bad news is that developers are not able to stockpile all the materials [they need]. Some are stockpiling some stuff in warehousing but it's not possible to stockpile some of this stuff."
He also said fears around access to materials were being exacerbated by concerns that there will be no quality guarantees if the UK is forced to increase the amount of materials it acquires from countries outside Europe.
Khan said: "We know when we import materials from the EU they will be at a certain standard."
He said this guarantee did not apply to materials sourced elsewhere, with developers and contractors expressing concerns the market could be flooded with sub-standard products.