Consultant forecasts weak economic growth will lead to a reduction in tender prices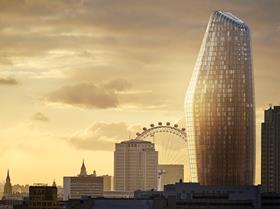 Core Five is forecasting that central London construction tender prices could fall 5% by the end of 2018, as Brexit causes project delays.
The consultant said it expected a 3% drop in tender prices next year and a further 2% fall in 2018, before stabilising in 2019.
Core Five's prediction is based on the assumption that the UK economy staves off recession, but instead records relatively anaemic growth over the next two years.
However, the consultant has also provided a more optimistic view where tender price inflation may only reduce by 1% over the next two years if consumers remain resilient and a worse case scernario if the economic environment deteriorates of a more severe 8% reduction in tender price inflation.
Last month Arcadis predicted tender prices would fall by 6% by the end of 2018.
In its tender prices update, Core Five says it expects a lot of capacity to return to the construction market as projects complete in 2017.
Combined with a projected fall in demand for prime residential and offices and developers scaling back development pipelines, this could lead to a more competitive market. Pipeline visibility beyond next year is also "less clear" the consultant added.
However, Core Five said contractors are unlikely to dramatically change their approach to taking on risk due to concerns about future labour and material costs.
Core Five's analysis also suggests up to 35% of a project's construction cost could be exposed to exchange rate movements caused by Brexit, meaning a 10% devaluation in sterling could add up to 4% to a project's construction cost.
Yet despite post-referendum uncertainty causing some project delays, it is largely "business as usual", the consultant said.
James Clark, partner at Core Five, said: "Stronger competition is great news for clients. The cumulative impact of strong tender price inflation, over several years, had started to weigh on project viability. A reduction in construction costs, and more pragmatic approach to risk, will certainly help to rebalance the equation."
"Our central view points to a 5% reduction in tender prices in the Capital in the 2017 to 2019 period but many challenges lie ahead and defining decisions need to be made.
"A collegiate approach, and a pragmatic outcome, to UK/EU trade talks will be hugely important for the construction sector – both by creating a stable environment to support continuing investment and limiting the direct impact of tariffs on the building materials we import."