Country's biggest private builder nosedives to a £267m loss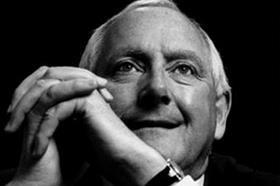 Losses on a PFI hospital contract in Canada, problems with its offsite manufacturing business, compensating blacklisted workers and restructuring costs all helped send Laing O'Rourke plc further into the red last year with the firm plunging to a £267m pre-tax loss.
The country's biggest private builder had already flagged up a grim set of results before Christmas when its chairman Ray O'Rourke said the group had made an overall £246m loss.
The divisional performances of the £3bn business are now emerging and results for the largest division Laing O'Rourke plc – which covers its operations in Europe, Canada and Abu Dhabi and includes 126 subsidiaries such as its plant hire firm Select as well as shares in PFI hospital schemes including Liverpool children's hospital Alder Hey – show losses in the 12 months to March 2016 increased threefold.
In a letter sent to staff and clients last month, Jersey-based Ray O'Rourke (pictured) confirmed his firm was taking a hit on a number of problem jobs, including a PFI hospital in Montreal which he said was "a particularly difficult large project in Canada" with the losses believed to be close to £80m.
In its results filed at Companies House, the plc arm said it had racked up £43m of contract losses on three jobs carried out by its Design for Manufacture and Assembly (DfMA) business – the offsite arm of the company.
The company said: "These projects were substantially redesigned in order to demonstrate the benefits of DfMA. Significant lessons have been learned."
Laing O'Rourke plc also shelled out £23m in restructuring costs which it said included redundancy payments, the cost of hiring consultants and money spent on refinancing.
And the firm said it had paid out £5.1m compensating blacklisted workers under an initiative called the Construction Workers Compensation Scheme set up by contractors in 2014 to deal with claims.
In a statement signed off just before Christmas by group finance director Stewart McIntyre, Laing O'Rourke plc admitted: "Delivery of legacy contracts during the next year is not with challenges." But it added: "Directors are confident in returning to operating and pre-tax profits."
The firm said the number of people employed by the business at the year end was up 500 to 8,650 – although its wages bill actually fell £1m to £400m. The salary of the highest-paid director, who is not named, fell £300,000 to £700,000.
It said the £267m pre-tax loss was made up of a £194m operating loss along with £73m of exceptional items. Turnover at the business slipped 3% to £1.6bn.
Earlier this week, in separate results the firm's UK construction arm posted a £141m pre-tax loss. This UK business is called Laing O'Rourke Construction Ltd and is part of Laing O'Rourke plc.
Laing O'Rourke plc is a member of Laing O'Rourke Corporation which operates out of Cyprus.
In his letter last month, O'Rourke said group revenue this year would be £3bn, adding that this would rise to £4bn in 2020. Its up-for-sale Australian business, O'Rourke added, had continued to perform well.