Firm to work on Cot Farm estate transformation in Newport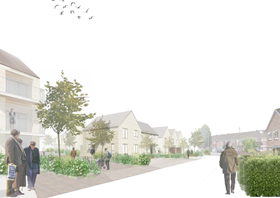 Lovell has been appointed to develop a scheme which aims to transform what has been described as one of Wales' most troubled housing estates.
Housing association Newport City Homes named the developer for the £7.5m first phase of a wide-ranging regeneration programme aimed at revitalising the rundown Ringland area of Newport.
Lovell will start work on the site this September, redeveloping the Cot Farm estate, creating 56 homes and apartments for social rent.
Under a masterplan by Powell Dobson Architects, the design and build scheme will create 26 modern two- and three-bedroom homes and 30 one- and two-bedroom apartments on land at Hendre Farm Drive.
Due for completion in December 2019, the scheme is the first element in a wider transformation of Ringland, which follows consultations with the local community.