Second terminal will now be built at a 'later stage in the process'
Luton council has insisted that it is not scaling back plans to expand the city's airport following reports that it has decided to delay building a second terminal to save £1bn.
The airport had concluded a consultation in 2019 on doubling capacity from 16 million to 32 million passengers by 2041.
But Graham Olver, London Luton Airport Limited (LLAL) chief executive, was quoted in the Local Government Chronicle as saying the firm would begin a new consultation on revised plans.
"Terminal two remains a very key part of our plans," Olver said. "It is just the phasing that is changing."
Olver suggested that the new scheme would consist of two phases, with work first being carried out on upgrading the airport's existing terminal before a second terminal was built.
The council, which owns LLAL, has admitted that it expects the new terminal will be completed at a "later stage in the process".
The BBC later reported that the second terminal would be built by 2045, four years after the original intended completion date.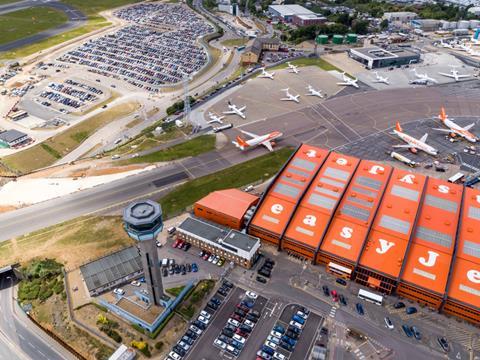 The council also said that the scale of the wider scheme's earthworks will be "significantly reduced", which it said accounted for the majority of the anticipated £1bn savings.
It said that the changes are due to feedback it had received from locals who want further management of the airport's environmental impacts.
It is taking a "fresh look" at sustainability at the airport, including "developing an innovative and ground-breaking initiative to ensure that all future growth at Luton can be green growth".
The council said it did not believe locals would "necessarily regard this as 'scaling back' " because it would continue to seek planning consent to double the airport's capacity.
It added: "We hope they acknowledge our commitment to significantly improving the airport's environmental impacts and determination to work up a pioneering approach to green managed growth that will monitor, measure and use environmental impacts to support the airport's growth rather than passenger numbers alone."
In December, the airport said it did not expect to recover to pre-pandemic levels for several years after passenger numbers dropped by 90% year-on-year in the previous month.
Last month, controversial plans to extend Southampton's airport runway by 164m to allow longer-haul flights were approved despite staunch opposition from campaign groups.
Several airports across the UK are currently eyeing expansion plans, including Heathrow's proposals for a third runway which the Supreme Court cleared a path for last year.
Gatwick also has a £1.1bn investment plan over the next five years and Stansted began a planning appeal in January in a bid to continue an expansion which Mace is already working on.
But plans to expand Leeds Bradford airport were delayed last month after the scheme's contribution to climate change led to the scheme being referred to the government.
Birmingham airport's expansion plans were also put on hold last year because of the covid-19 pandemic.