Projections echo Turner & Townsend's predictions of cost inflation this week
Mace has become the latest firm to raise its tender price forecast because of continued material price increases.
This week Turner & Townsend revealed significant revisions to previous forecasts. The business warned UK construction to prepare for tender price inflation remaining high in the short to medium-term.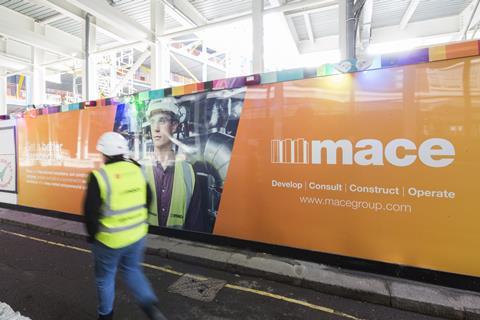 Now, Mace is projecting that tender prices will grow by 3% this year – an upwards revision of 1.5%. It has also revised next year's forecast by 1.5%, pushing it up to 3.5%.
In its third-quarter market view the firm said the ongoing rise in material prices, which were 6.6% higher in June than they were in March, with a further month-on-month jump of 4.5% in July, was driving this inflation.
T&T had said this was on the back of rising client demand, problems getting hold of labour, and supply chains stretched to breaking point. Last week several oil firms said they would not be able to get enough petrol to forecourts because of a shortage of lorry drivers, leading to panic buying of petrol since the weekend.
Mace's consultancy arm said shipping issues between China and Europe were not expected to resolve this year and that a shortage of HGV drivers would continue to have an impact domestically, not just on material and tender costs but on delivery timescales and construction output.
Looking further ahead, Mace said labour costs would also have an impact on tender prices. With vacancies jumping to 38,000 in the three months to July – over 10,000 more than was seen on average in the few years before the pandemic – there was potential for this to inflate prices further.
Steven Mason, managing director for cost consultancy at Mace, said the expectation was growing that the labour market is starting to tighten and this had the potential to drive costs up further. "As market confidence and the work pipeline improves, the supply chain has become more reluctant to absorb these sustained increases in input costs," he added.
"The underlying expectation that market activity will continue to increase as the workforce starts to return to the workplace only heightens the sense that tender prices will continue to rise as we progress towards the final quarter of the year. We have adjusted our forecasts for 2021 upwards to reflect this."
According to the Mace report, an analysis of the fit-out market showed that prospects in the medium-term look encouraging for this part of the sector as more people return to the office. This view was supported by the number of new orders coming through and a growing focus on environmental, social and governance.
An increasing number of firms are looking to repurpose existing office space to accomodate hybrid working and bringing existing building specifications up to standard in line with tighter energy requirements.