Mark Reynolds tells Theresa May to think again over policy to concentrate on high-skilled workers once UK leaves EU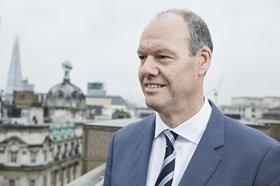 Mace chief executive Mark Reynolds has said the government has completely ignored industry worries over access to labour once the UK leaves the EU next March.
The £2bn turnover firm is working on a string of blue riband projects including the late-running Spurs stadium, the first three phases of the Chelsea Barracks scheme and AstraZeneca's new headquarters building in Cambridge.
Reynolds' intervention is the most high-profile on the issue yet by a senior figure in the industry and comes after prime minister Theresa May said earlier today the UK's immigration plan after Brexit would focus on high-skilled workers and that no priority would be given to people from the EU.
She added that free movement of workers between UK and the EU would end "once and for all" after Brexit.
But Reynolds (pictured) said: "The government has failed to listen to industry on the importance of maintaining access to a broad mix of labour after Brexit.
"The future of the UK's construction and engineering sectors relies on the availability of both highly skilled specialists and so-called 'low skilled' labour. I believe that the policy should be urgently reviewed and business consulted once again; as without access to the right mix of skills we will be unable to deliver sustainable construction growth after Brexit."
He also took aim at the apprenticeship levy which he said was "preventing us investing effectively in the skills of our people and our supply chain. Any changes to migration rules that will limit the availability of so-called 'low skilled' labour will exacerbate the problem."
London is expected to be hit hardest by the planned restrictions on EU labour following Brexit. In the summer, Skanska's UK chief executive Greg Craig said the amount of EU labour on some of the firm's sites in the capital was as high as 70%.
And in June, Rob Perrins, the chief executive of housebuilder Berkeley, said: "It is a fact that over half of London's site labour comes from the EU. This needs to be addressed by a combination of continued access to EU labour, skills training and innovation."
Liz Jenkins, projects & construction partner at law firm Clyde & Co, said the government's strategy could help send more EU workers heading for the exit door.
She added: "The focus on highly skilled workers might make sense if the country's skills shortage was not also affecting the sectors that rely heavily on lower skilled labour. It's well documented that the construction industry is facing a chronic skills shortage and currently heavily relies on EU labourers that are quickly leaving the country due to Brexit uncertainty."
Figures released by the Office of National Statistics over the summer showed that one third of workers on London sites were from overseas with 28% coming from the EU.