Mark Reynolds reveals his wife has come down with some of coronavirus symptoms
Mace chief executive Mark Reynolds has revealed he is having to self-isolate after his wife came down with symptoms of the coronavirus.
In a post on LinkedIn this afternoon, Reynolds said: "I'm now self-isolating, working from home, after my wife Debbi came down with some of the symptoms herself, although we think it's just a cold."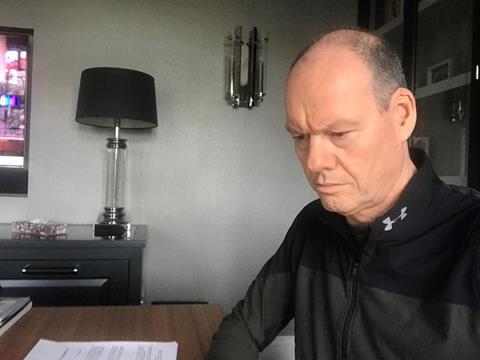 He also explained why sites are continuing to operate – even though swathes of businesses on the High Street have shut up shop.
Costa Coffee announced earlier today that 2,700 of its stores would close tonight while chicken restaurant chain Nandos said it was to close more than 400 of its outlets in the UK until further notice.
Reynolds (pictured at home) said: "It's vital that we all follow government guidance – not just to protect ourselves, but to ensure that we're not putting others at risk.
"It's also important that our industry is able to keep operating throughout this difficult time, as long as it can do so responsibly, to protect the millions of jobs it supports. In order to do so we've introduced measures to ensure that people can work safely, including rigorous cleaning routines and carefully planned work rotas."
But he admitted: "I am very conscious that there are many people delivering essential work for Mace who are still travelling into work every day. Keeping our projects open as long as possible is key to the long-term sustainability of our business, but we recognise that it is a challenging situation."
Boris Johnson is coming under increasing pressure to impose a tougher lockdown to fight coronavirus. Images on social media earlier showed packed Tube trains.
Italy, Spain and France have stopped people from leaving their homes without good reason, with enforcement by police, and Germany has banned gatherings of more than two people unless they are related to fighting the virus.
Earlier today, health secretary Matt Hancock, called those who are not obeying the rules "very selfish" who were putting the lives of others at risk.