Chinese firm behind project next door to US embassy says plot will eventually be home to a dozen buildings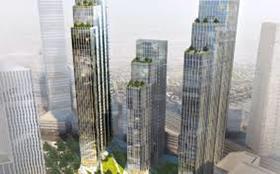 Mace has landed a prized deal to build three towers for the Chinese firm behind the redevelopment of a stretch of land next to the US embassy at Nine Elms, Building can reveal.
The contractor has won the first phase of the Nine Elms Square project which involves building the towers and a podium for retail and residential.
Client on the scheme (pictured) is R&F Properties, the same firm behind Multiplex's One Nine Elms project currently being built next door to Nine Elms Square.
Designed by US architect SOM, the three buildings will range from 36 to 54 storeys and will provide 880 apartments running across 11,555 sq m.
The deal is Mace's first for R&F and the firm's chief operating officer for construction Gareth Lewis said: "We are proud to take on the challenge of delivering part of Vauxhall's latest iconic residential development, at the beginning of what we hope will be a long and successful relationship with R&F Properties."
The first phase has a gross development value of £480m with the entire Nine Elms Square scheme set to consist of 12 buildings and close to 2,000 homes.
Multiplex's scheme has been designed by another US architect, KPF, and involves two towers of 56 and 42 storeys.
A five-star hotel is also being built as part of the Multiplex deal which has a construction value of more than £650m.
Listed in Hong Kong, R&F has been on an acquisition spree in recent years, having snapped up Nine Elms Square, previously known as Vauxhall Square, for £158m from CLS Holdings in April 2017 just a month after buying the Queen's Square site in Croydon, which includes the former Nestle building, from Delancey.
One Nine Elms was being previously developed by another Chinese firm Dalian Wanda who sold the site to R&F at the beginning of last year for close to £60m.