Sustainability director says firm will meet "challenging targets"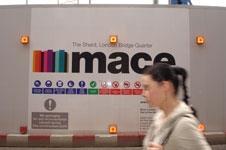 Mace has reported an 18% cut in waste in its annual results as it aims for a 75% reduction by 2015.
In its annual report for the year to 31 December 2012, shared with Building this week, the firm reported 3.3 tonnes of waste for every £100,000 spent on site in 2012, a reduction of 18% on the 4 tonnes it reported in 2011.
The firm has set itself the goal of reducing waste to just 1 tonne per £100,000 spent by 2015.
Isabel McAllister, sustainability director at Mace, said: "We have got a big ongoing review looking at all our logistics and looking at ways to design out waste."
Mace reported that it is generating 8,700 tonnes of carbon, which it aims to reduce to 6,960 tonnes by 2015. It also diverted 91% of waste from landfill, which it aims to increase to 98% in 2015.
The firm is also aiming to use only sustainable certified timber by 2015 and plans to increase its use of sustainable concrete and plasterboard. McAllister said these targets would be challenging to meet because they require co-operation and progress from organisations outside Mace.