Firm saw income drop £100m alone in April as lockdown restrictions hit
Mace has admitted that it won't be until next year that turnover climbs above the £2bn mark again after the firm said the impact of covid-19 would mean revenue would slide further this year when it files its 2020 accounts.
Such was the havoc caused by the first lockdown, announced by prime minister Boris Johnson on 23 March, that the number of people working on Mace's sites collapsed from 62,000 in the first two months of the year to just 2,000 in April with the firm seeing revenue for that month alone fall by £100m.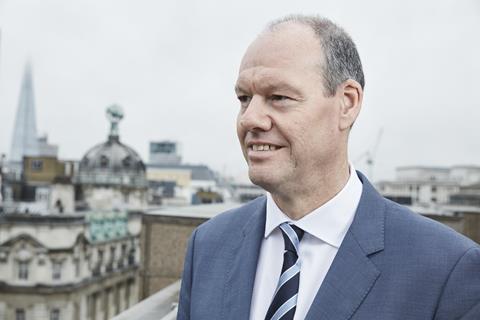 Chief executive Mark Reynolds said it finally got back up to the 62,000 figure at the beginning of October – meaning more than five months were spent operating below 100% capacity.
Reynolds (pictured) said 2020 turnover was expected to be around £1.73bn, a fall from the £1.8bn it posted last year which itself was a £500m drop from the £2.3bn it reached in 2018. He said pre-tax profit this year would be down to around £20m from the £25m posted in 2019.
The firm is now targeting the £2.1bn turnover figure it had ringed this year next year and Reynolds admitted: "We would have got there this year. January and February were great months and then lockdown happened."
Mace was forced to close its sites completely for a three week period the day after Johnson's announcement with some sites not reopening until the middle of May.
At the height of lockdown, Mace furloughed close to 800 of its 5,500 staff in April with around 40 now left on the initiative mainly from its FM business.
But Reynolds said the firm would not be following the example of some quoted companies and be paying back the money it received from the scheme. "We needed that. It was used to protect jobs and that's what it did." He added that none of the firm's shareholders would be receiving a dividend this year.
Over the summer the firm said it was looking to make up to 300 people redundant but ended up cutting 270 jobs with 140 of them coming from the UK.
A number went from the firm's £200m-a-year aviation business which saw work on a host of schemes across major airports including Heathrow, Gatwick and Stansted come to a stop.
Reynolds said the consultancy business, which according to 2019 figures accounted for £313m of revenue compared to the £1.4bn generated by its construction arm, had weathered the covid storm better than most and had managed to increase income this year to around £350m.
But he warned the firm's market in India, where it works on residential and commercial schemes, had been weakened by the severity of the lockdown in the country. "India is going through a tough time. The lockdown has been tough." Around a quarter of the 270 redundancies it made earlier this year are from India.
Reynolds said industry's response to this year's lockdowns put it in good stead for dealing with Brexit with the UK due to finally leave the EU at the beginning of next month.
He said access to materials remained key for the wider industry and warned that firms might have to use different routes to get goods into the UK from Europe. "Avoid the short straights," he said. And he added firms would need to make sure materials and components being fitted into buildings would not fall foul of post-Brexit British standards.
The firm, which is one of three to have this week sent bids back for the new £570m HS2 station at Curzon Street in Birmingham, has 73% of next year's workload already secured with its pipeline of work running at £6.5bn and stretching into 2025.