HS2 contractor also says money is squandered on big infrastructure projects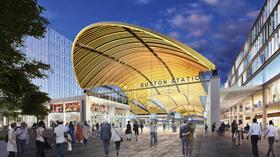 Mace has said public procurement should be "revolutionised" after Brexit as it finds more than £19bn will be wasted annually by 2030 unless the government gets better value out of big infrastructure projects.
The firm recently won a £1.6bn contract to lead construction of the new HS2 station at Euston (pictured) with JV partner Dragados.
But now it has published a report saying 80% of large infrastructure projects are delivered late and over budget – and then under-deliver on benefits.
The report says decisions about big infrastructure schemes are driven by political pressure more than cost/benefit analysis and that project teams are made to guess fixed-point price estimates before accurate predictions are possible.
Mace concludes the UK government should have a so-called Department for Growth to bring about disparate elements of infrastructure delivery across departments and increase oversight of major schemes.
It also recommends creating a panel of "industry heavyweights" outside of the usual public sector structures to scrutinise cost and timetables.
And it said that unnecessary bureaucracy and complex rules in the procurement process – many of which are derived from European Union directives – should be scrapped after Britain leaves the EU.
The UK's largest construction project, HS2, has seen costs spiral from £33bn to £56bn and is now looking into reducing train speeds in order to stop further cost overruns.
It is also the subject of ongoing criticism from campaingers and Conservative MPs, who says the scheme does not represent value for money.
The legislation for phase two of the project, from the West Midlands to Crewe, is currently being scrutinised in parliament.