Firm set to post rise in fees to £20m this year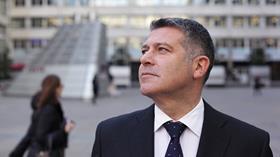 Mace Cost Consulting is on course to post a fee income of £20m for 2017, an 11% rise on the £18m the business recorded last year.
New boss Steve Mason (pictured), who took over from Chris Goldthorpe at the beginning of the year, also revealed that it has set a fee income target of between £30 and £35m within five years.
He added that he also wanted the 182-strong firm to break into the top five rankings for cost consultants.
Over the last 15 months, the firm, which is part of the Mace group, has been expanding its residential offering with a team of 35 staff now focused on a number of projects including the Brent Cross South scheme which is being masterminded by Kings Cross developer Argent and its American joint venture partner Related.
Mace picked up the scheme, which is part of the wider £4bn Brent Cross Cricklewood development, last month and which has outline planning permission for 6,700 new homes and up to 4 million sq ft of office space. Subject to detailed planning approval the development is expected to start on site next year.
The firm is also the cost manager on Argent Related's £1bn revamp of Tottenham Hale in north London.
Mason said being part of Mace allows his business "to have a better technical understanding of projects to inform projects costs" and added that it was looking to recruit more staff to meet its targets.
He admitted that Brexit had cooled the market down which he said had some benefits. "[The industry] couldn't cope with the demand on it. It's good for the marketplace as it was struggling to cope with delivery and quality of service delivery right through the chain."