'Nothing off the table' as firms work out how to keep sites going in post-coronavirus world
Several main contractors have begun looking into the previously unthinkable possibility of buying up parts of their supply chain in order to keep their schemes up and running, Building understands.
The unprecedented move could spell the beginning of the end of a multi-tiered supply chain which has been the norm in the industry for years and has been regularly criticised as being too unwieldy.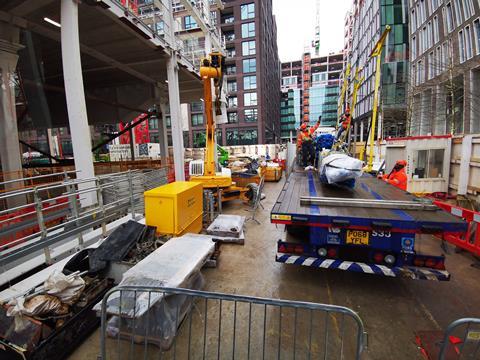 One firm, which asked not to be named, said: "We are expecting to see suppliers start to struggle in the coming weeks and collapse. Either we prop them up to prevent that happening or we look at actual takeovers.
"It's a conversation that is increasingly happening and we know others are speaking about it as well."
Another firm said contractors could consider buying stakes in firms to keep stricken companies afloat and added: "Main contractors will be looking at those suppliers which are critical to keep going. It used to be that if one trade contractor fell over, we would go to another. But that might not be possible this time around.
"Coronavirus is making us completely rethink how we look at this. Nothing is off the table. It could be that main contractors go in together and take a joint ownership stake in a particular firm."
Contractors are particular concerned about getting materials to site with many worried that sites will be unable to restart because trade contractors and materials will not be there.
Another firm said: "Everybody is going to be ready to go back to work and we are not going to have any materials to work with."
Any takeovers of suppliers are bound to attract the attention of government watchdog the Competition and Markets Authority (CMA) with concerns set to focus on whether one main contractor is cornering the market in a particular trade.
But one source said: "We are looking to do this in a way that is appropriate, legitimate and complies with regulations."
Last week the CMA said it will allow firms to work together to support the fight against coronavirus.
It added: "The CMA understands that this may involve coordination between competing businesses. It wants to provide reassurance that, provided that any such coordination is undertaken solely to address concerns arising from the current crisis and does not go further or last longer than what is necessary, the CMA will not take action against it."
But it warned: "The CMA will not tolerate conduct which opportunistically seeks to exploit the crisis. The CMA will take enforcement action to prevent consumer detriment."
The industry has long been criticised for having lengthy supply chains and in his 1998 Rethinking Construction report, commissioned by then deputy prime minister John Prescott, industrialist Sir John Egan admitted: "We know that it is not easy to sustain radical improvement in an industry as diverse as construction."
And he added: "If the industry is to achieve its full potential, substantial changes in its culture and structure are also required to support improvement."