Contractor Willmott Dixon and Hammerson chief executive are latest to sign up ahead of next month's referendum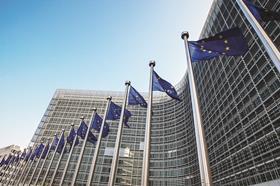 Heavyweight contractor Willmott Dixon and David Atkins, the boss of retail developer Hammerson, are among the latest firms and individuals to sign up to Building's remain in the EU campaign, Building Says In, ahead of next month's crucial referendum.
Building came out in support of staying in the EU last week, after results of an exclusive survey of 1,300 construction professionals showed two-thirds support for staying in.
An open letter was also launched alongside the campaign, setting out construction's case for remaining and the potential risks of a Brexit, backed by major businesses including Mace, Mott MacDonald and JLL.
Willmott Dixon and David Atkins are among the latest to sign up, alongside the EMEA division of architect Perkins + Will, housing group Larkfleet and engineer Paul Owen Associates, as well as more than a dozen individuals including senior managers at engineer Hoare Lea and aggregates giant Marshalls Group.
Growing support for Building's campaign comes as prime minister David Cameron this week warned a Brexit could cost UK infrastructure projects billions of pounds of investment, while developers British Land and Land Securities expressed concern over the effects of Brexit in their full-year results.
Cameron said projects across the UK received billions of pounds in funding from the European Investment Bank, such as the expansion of Oxford University's research and teaching facilities, and the impact of Brexit would be "devastating".
British Land said there was evidence of office occupiers delaying decisions until after the referendum and this was likely to worsen in the short term.
However, it said London's "global position" would ensure it is able to endure the effects of Brexit in the long term.
Land Securities chief executive Robert Noel said a vote in favour of Brexit at the upcoming EU referendum would be "painful" for the property industry and could create uncertainty while a protracted exit takes place.
Noel warned this would reduce occupier demand and lead to falling rental values and a reduction in construction commitments.
However, Noel said the company was positioned to "thrive whatever the outcome" as it reported strong full-year results.
Add your voice to the campaign by tweeting #BuildingSaysIN and by signing up at www.building.co.uk/EUref where you can find more referendum coverage