Prospective architect Luis Vidal, designer of Heathrow Terminal 2, reveals client may go to different city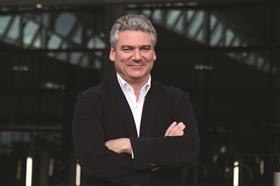 A major office headquarters job in London for an undisclosed US-Spanish multinational has been put on hold because of the Brexit vote, Building has learned.
The building's prospective architect - Spanish architect Luis Vidal (pictured), who also designed Heathrow Terminal 2 - told Building the referendum result had put the major scheme at risk as the client considers a move to a different European city.
Vidal said: "The client had identified the UK as a neutral spot between the US and Spain. But I've been advised they may now relocate [because of the Brexit vote]."
Vidal's practice, Luis Vidal Architects, had been working on schematic drawings for the project. He declined to name the client or the London site being considered, but the move lends credence to fears that international firms may turn away from the UK after the vote.
Vidal – who trained in architecture at London's Greenwich University and was in the city on EU referendum polling day - said Spanish practices had noticed some of their UK counterparts had "immediately stopped employing European architects" after the vote.
Commenting on the Brexit result, he added: "I was really sad and sorry it happened."
Vidal's fears about Brexit were echoed by several leading construction professionals in Madrid, with concerns raised including about potential restrictions to freedom of movement in Europe and the UK's economic prospects.
News of the major prospective London scheme going on hold comes as firms in the London commercial market digest a flurry of both good and bad recent developments for the sector.
Last week, French insurance firm Axa finally committed to building the City of London's tallest tower, 22 Bishopsgate – a project that had been put on hold in the wake of the EU referendum.
Axa's development partner Lipton Rogers promptly signed construction contracts with the scheme's main project team members, including contractor Multiplex.
However, on Monday this week, leading construction economists at the Construction Products Association predicted a deep Brexit-induced slump for the wider offices sector.