Mike Peasland steps down from role as UK construction chief executive to run regional business following £50m profit warning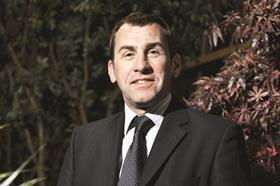 Balfour Beatty's UK's construction boss is to step down from his role to run the firm's regional business as part of a shake-up following a £50m profit warning this morning.
Speaking to Building, Balfour Beatty group chief executive Andrew McNaughton (pictured left) said he would take direct control of the UK construction business as chief executive, with current chief executive Mike Peasland stepping down to become managing director of the regional business.
Steve Waite, currently managing director of Balfour Beatty regional, is leaving the business.
The shake-up follows a trading update this morning, with the industry giant warning that profit in its £3.18bn turnover UK construction business would be £50m less than expectations.
McNaughton told Building that an internal review of the business, which concluded on Friday (26 April), had found a "significant deterioration" within the regional business, where six business units in the South-east and South-west of England had performed particularly poorly.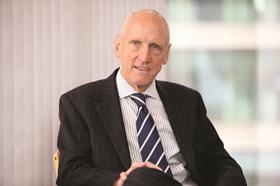 He said the departure of Steve Waite, with immediate effect, was a direct of outcome of the internal review. "We've considered that there has to accountability for the fact that we've got a large number of projects across the business that haven't achieved what we want … and we have to have accountability for that," he said.
He said Mike Peasland was stepping down from his role as chief executive to lead the regional business. "I'm charging him with focusing his attention deeply into the regional business. I'm going to take the role that he's had in terms of the UK CEO because he is going to step down and focus his attention on the regional business," he said.
He said the problems were down to a combination of difficult trading conditions, which had led the firm to take additional risk through the bidding process, as well as operational issues, including strain on suppliers and subcontractors. He said tighter delivery schedules and delays on some projects, with the costs associated with that had also caused problems.
"On the regional side, we've got a thousand projects but we haven't got a thousand problems - but they do come down to specific projects and the issues are specific to those projects."
He said the major projects business also has a number of problem projects, particularly on the commercial building side, with "similar sort of issues" to the regional business, with tight delivery schedules and issues in the supply chain impacting on performance.
"We've seen one or two projects in particular where we've had issues on the supply chain – where we've had to replace them or manage through those situations to get the delivery finished," he said.
Bob Clark, managing director of the major projects business, will remain in his role and will report directly to McNaughton.
McNaughton conceded that the wide-ranging restructure the business has been implementing since last year, which saw six operating companies reduced to just one, with the business reshaped around six work streams, had had an impact on operational delivery in some parts of the business.
He said: "Clearly there's a lot of people who've taken on different roles and in certain instances - again I come back to the fact that this is not uniform across the business, we've got business units that are absolutely performing well - but in some circumstances getting the portfolio of the new business organisation [in place] and focusing on it properly, we have slipped in some instances."
McNaughton said his immediate priority was to step into the role of chief executive of the UK construction business and to "focus the business in terms of future bidding work" as well as increasing "the scrutiny and review of the operating projects" to ensure that "with the new book of work that we are bringing in as we go forward we are redressing the issues we've got in the business".
Asked about suggestions that Balfour Beatty would withdraw from the building market in the UK altogether in order to focus solely on civils and infrastructure work, McNaughton said that was "conjecture".
He added: "We have a long heritage in building and we have a long heritage in civil engineering and as markets change we have to look at each one of those individual sectors to understand what we're going to continue to bid and what we're not."
"You have to understand that with the issues that we're seeing is a result often of huge competitions going on at the moment and I'm going take the decisions as to whether to bid or not bid on a case by case basis."
But McNaughton said taking on the role of UK construction chief executive would mean that he had to take some of his focus off the group's global operations, although this would be mitigated by moves to free up senior management capability in other parts of the business.
"I'm certainly not giving up the role that have in terms of the [Balfour Beatty] Group, but you will understand that some of the things that I would have wanted to push on I'm going to have to rein back a little on," he said.
He said this would include the implementation of the country model, particularly in the UK. "I'm still committed to drive that forward internationally, but one of the things I have to do is to make sure I'm not going to push forward on that in the UK until such time as I'm comfortable that we've got everything operating in the right way.
"Therefore I'm increasing my time in term of my focus on the UK."