Construction did not enter recession at the start of this year, as previously thought
UK economic growth was stronger than previously estimated last year and at the start of 2015, the ONS has said, after publishing major upward revisions in construction output.
The UK economy grew 3.1% in 2014, rather than 2.8% as previously thought, thanks to major upward revisions to construction output data (see table below).
For instance, a 2.2% contraction in construction output estimated for the fourth quarter last year has been revised up to now show 0.2% growth - meaning the construction sector did not technically enter recession at the start of this year as previously thought.
The revisions come following a change in the way the ONS calculates price changes and seasonal adjustments. The ONS faced a backlash from economists last month, including from the Construction Products Association (CPA), over the ONS's perceived under-representing of construction output.
The ONS described today's revisions as an 'interim solution', suggesting further revisions may follow.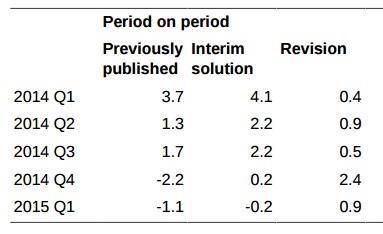 Today the ONS also produced its first estimate for construction output in April, which it said fell 0.8% month-on-month.
However, all new work increased by 1.6% over the month, with new housing providing the biggest boost, up 5.4%.
Dr Noble Francis, economics director at the CPA, said: "The CPA has previously highlighted issues regarding the ONS construction output data and we welcome the new construction output price deflators that the ONS has implemented in this data release.
"As the ONS states, the new price deflators are an interim solution; the CPA will be working with the ONS to ensure that the construction output figures will be as robust as possible in the medium-term.
"Total construction output fell slightly in April but this was expected due to the uncertainty prior to the general election and its adverse impacts on consumer and business confidence."
Last month, Kate Davis, head of retail sales and construction index at the ONS defended the construction output published last month as the "biggest and best" measure of construction output.