Savills forecasts city is facing huge shortfall in commercial space and housing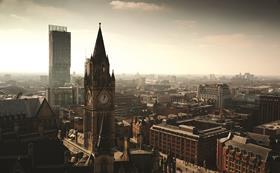 Manchester needs up to four million sq ft of additional office space over the next decade to keep pace with demand, according to new research published by estate agent Savills.
The city's housing market is also facing similar challenges, with new homes currently being built at less than half the rate needed, the research found.
The number of office workers in Greater Manchester is forecast to grow by approximately 36,000 by 2025 as more companies look to "north-shore" and base operations in the city.
At the same time, the resident population of Manchester is forecast to rise by 65,500 over the next ten years, requiring some 9,650 new homes a year.
Currently delivery of new homes is falling some 5,100 below the level needed and at prevailing rates of provision there will be a shortfall of 51,000 homes in the next decade in Greater Manchester the research reported.
Mat Oakley, director and head of European Commercial Research at Savills, said: "Manchester's underlying strengths and well-established education, financial and business services sectors have already served to create 57,000 more jobs in the city since 2011, and with more companies now looking at the city as a potential location to 'north-shore' demand for office space is heading in only one direction."
James Evans, director, Office Agency in Savills Manchester office, adds: "Manchester continues to boom with relatively affordable living and commercial space stimulating continued demand for offices from indigenous, north-shoring and inward-investing businesses.
"While this is good news for landlords, investors and developers, if we fail to keep pace with demand the city's ongoing growth prospects could be jeopardised, with businesses relocating or looking elsewhere if they can't find space that fits their requirements.
"The planning process needs to carefully balance the need for more offices against the equally pressing requirement to deliver more homes, as these new employees will need somewhere to live as well as work."