Firm doubles margin at construction and infrastructure business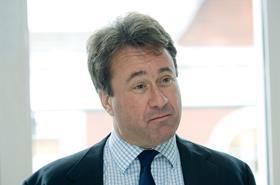 Morgan Sindall turned in a bumper set of results last year as it saw pre-tax profit climb by nearly half and margins at its construction and infrastructure business more than double.
The firm said revenue was up 9% to £2.8bn with the group seeing its overall operating margin climb from 1.9% to 2.5%. Pre-tax profit was up 48% to £64.9m.
Chief executive John Morgan said he expected margins at construction and infrastructure to head north again this year and added that the group expected to beat expectations in trading this year.
He said: "We are confident of another good year of progress and with this positive momentum are well-placed to deliver a result for the year which is slightly above our previous expectations."
Cenkos analyst Kevin Cammack said he was forecasting profit of £70.3m in 2018, ahead of the £68.3m consensus.
Construction and infrastructure is the largest part of the business and saw turnover climb 6% to £1.4bn with operating profit jumping 129% to £20.4m. Operating margin jumped from 0.7% to 1.5% helped by an imporved performance at its construction business.
Morgan (pictured) said the firm would continue to focus on improving margins at the arm with construction, which is working on a £1bn Knowledge Quarter scheme in Liverpool called Paddington Village, posting an operating margin of 1.3% – up from break even in 2016 – and infrastructure edging up to 1.7%. The firm has said it wants its construction business to be hitting 2% margins with infrastructure, which is working on a £15m deal to upgrade Old Street roundabout in east London for Transport for London, aiming for 2.5%.
Its fit-out business saw workloads increase 16% to £735m with operating margins being hiked from 4.3% to 5.3%. The firm is fitting out the Canary Wharf offices of the Cabinet Office but has also picked up significant wins outside London and the South-east including work for Network Rail in Birmingham, law firm Freshfields Bruckhaus Deringer in Manchester and for Bristol city council.
Cammack said the stand-out performers had been its fit-out and construction businesses and hailed the ongoing recovery of the firm after being hit with £15m of losses in 2015 caused by problem jobs. "[It's] another excellent trading performance by the group and the fact that its momentum is not yet a thing of the past."
Morgan Sindall's partnership housing business, which includes its Lovell brand, saw revenue climb 9% to £474m with operating profit up 5% to £14.1m, although operating margins slipped from 3.1% to 3% with the firm blaming increased costs on a scheme in London for the fall.
In November, Lovell picked up a contract worth around £250m by the Ministry of Defence to build more than 900 new homes on Salisbury Plain for troops returning home from bases in Germany.