Construction arm edges closer to 3% mark
Margins at Morgan Sindall's construction business edged closer to the 3% mark as the firm turned in another set of improved annual figures.
The firm said revenue in the year to December 2019 was up 3% to £3.1bn with the group seeing its overall operating margin climb from 2.9% to 3%. Pre-tax profit was up 10% to £88.6m.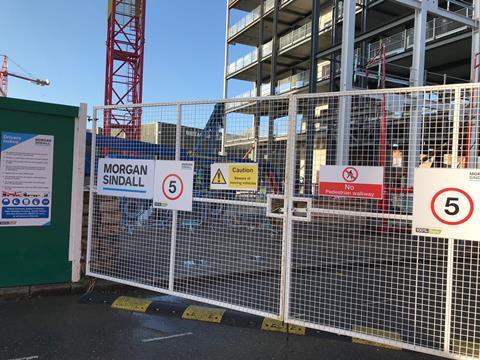 Chief executive John Morgan said the firm's year end net cash pile of £193m allowed it to pick and choose which jobs it went for.
He said: "Our balance sheet remains a significant differentiator for us allowing us to make the right long-term decisions for the business."
Construction and infrastructure is the largest part of the group with turnover up 11% to £1.5bn and operating margins up from 2% to 2.2% after operating profit climbed 20% to £32.3m
Construction accounts for 42% of that revenue, £619m, with operating margins going up from 2.4% to 2.8% after operating profit climbed 22% to £17.1m.
But Morgan said he didn't expect margins to go through the 3% barrier this year. "We've always said 2.5% to 3% and we don't expect more than 3%. We've worked very hard to get margins up and this year we'll be allowing turnover to grow slightly."
The firm, which is building a new £98m secondary school and leisure centre (pictured) in Hackney, east London, for the council, said just 2% of its £514m construction order book had been won through competitive tendering.
Margins at infrastructure edged up from 1.7% to 1.8% and Morgan admitted: "They were less than we would have liked."
Morgan said he expected to see the two businesses, which is seeing the infrastructure arm carry out an extension of the London Overground to Barking Riverside, make further inroads into their 2.5% margin target this year. Infrastructure's operating margin target over the next three to four years is 3% and Morgan said the figure in 2020 would be closer to its target.
Its fit-out business saw workloads increase 1% to £839m but operating margin slipped to 4.4% after operating profit fell 16% to £36.9m.
Morgan had previously warned he expected profits to come down to its target £30m-£35m range after describing 2018, where operating profit hit a record £44m, as "our best year in fit-out by a country mile".
He said he expected operating profit to be around £35m in the next few years and the amount of work it does in London, where it completed work on Microsoft's new flagship store at Oxford Circus, to reduce from the current 70% of fit-out's volume.
"I've been saying that for a couple of years now but I think London will be less. Manchester and Birmingham are very strong," he added.
Projects the fit-out arm won last year outside the capital included Virgin Media's new headquarters at Reading and offices for law firm Eversheds Sutherland in Cambridge.
Morgan Sindall's partnership housing business, which includes its Lovell brand, saw revenue stay flat at £513m but operating profit was up 50% to £18.3m sending operating margins up to 3.6%.
It said a loss-making scheme in London had now been completed and that it was targeting operating margins of 6% over the next three to four years. Morgan admitted the business hadn't been performing in recent years, prompting a management rejig. "We've been playing catch-up," he said, adding the division could eclipse fit-out as the firm's biggest profit maker over the next half decade.