Manufacturers' group says rate of growth falling but confidence remains high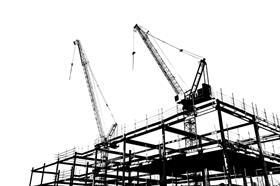 Growth in sales of "heavy side" construction products fell to its lowest level in over two years at the end of 2015, according to the latest state of trade survey by the Construction Products Association.
The organisation, which represents construction product manufacturers and suppliers, said that in the last quarter of 2015 fewer of those supplying "heavy side" materials such as steel and concrete saw growth than at any point since the first quarter of 2013.
It said a balance of 5% more firms experienced growth than experiences declines in sales, down from 13% in the previous quarter, putting the decline in growth rate down to the modestly weakening UK construction economy experienced in the second half of 2015.
However, the organisation said that those supplying "light side" materials used internally within buildings saw growth continue to accelerate. A balance of 38% more firms saw growth in the fourth quarter of 2015 than saw falls.
Overall, the CPA said the survey demonstrated the eleventh consecutive quarter of growth in sales for the materials industry as it recovers from the long recession presaged by the 2008 financial crisis.
In addition, despite the weaker than expected construction output figures in the second half of last year, the CPA said confidence remained high among its members that growth would continue in 2016, with a balance of 43% more heavy side manaufacturers and 42% more light side manufacturers anticipating growth in 2016.
The survey result comes after credit agency Experian last week revised down its forecast for output growth in the industry in 2016. It said it now expected the industry to grow by 2.6% this year, revised down from the 3.6% growth it had anticipated for same period in its autumn forecasts three months earlier.
Rebecca Larkin, CPA senior economist, said: "This marked the eleventh straight quarter of rising sales of construction products. For manufacturers on the heavy side, however, this was the lowest quarterly balance in three years, which echoes weakness in overall construction output data for the closing months of last year."
The CPA defines "heavy side" materials as those used early in the construction process as part of the base build, while "light side" materials are those used to fit out buildings' interiors.