Contractor's shares fall on the news as firm's chief executive leaves 'with immediate effect'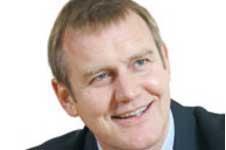 May Gurney chief executive Phllip Fellowes-Prynne is leaving the company "with immediate effect", after the listed-contractor issued a profit warning today.
In a statement to the City, the contractor said Fellowes-Prynne had left the company by "mutual consent" and would be replaced on an interim basis by current non-executive director Willie MacDiarmid, as the firm searches for a permanent replacement.
May Gurney issued a trading update today warning that it will "significantly under-perform its original expectations for the current year".

Real-time Share Price
Shares in May Gurney fell more than 40% on the news to just over 130p, wiping almost £66m off the value of the company. The share price was down 43% by lunchtime.
The warning came as it emerged that May Gurney has extended payment terms to 60 days from 45 days for materials suppliers on its contracts, with the contractor also planning to cut its 4,000-strong supply chain.
The firm said it faced some serious operational issues within two long-term MaGos waste and recycling contracts, with the firm failing to meet targeted margins.
It added that the firm was experiencing "significant exiting costs" as it ran down its Facilities Services division and had set-aside a £10m one-off charge to cover the costs.
It said it also had "on-going difficulties" within its Scottish Utilities business as Scotia Gas Networks reduces outsourcing.
"These factors … have led the Board to the conclusion that the Group will significantly under-perform its original expectations for the current year," the firm said.
Chairman Baroness Ford said: "In taking this action today, the Board has moved swiftly to deal with the specific operational problems that have emerged over the last few months.
"We are fortunate to have secured the services of Willie MacDiarmid to lead the business on an interim basis.
"His depth of operational experience will be invaluable over the next period as we move to secure a permanent CEO."
The firm said it the underlying performance of the rest of the business was "sound" and it had an order book of £1.5bn, with £86m of new work and £50m of contract extensions won since the year-end.