Maldron Hotel in city centre set to complete by mid-2020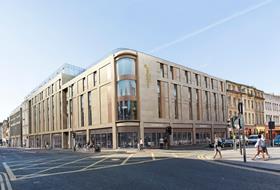 McAleer & Rushe has won a £30m deal to build a new four-star Maldron Hotel in Glasgow City Centre.
The agreement with Dalata Hotel Group will see a 250 bed hotel with bar, restaurant and business conferencing facilities located on Renfrew Street, close to the main shopping district on Sauchiehall Street and adjacent to the Theatre Royal.
It is still subject to planning permission from Glasgow City Council and is due to completion by mid-2020, representing Dalata's first Maldron hotel in Scotland.
This is the latest development in its partnership with Dalata Hotel Group and follows last month's announcement of its sale of the planned Maldron Hotel in Newcastle (pictured) to institutional fund UK Commercial Property Trust for £32.7m. The six-storey hotel is due to complete in March 2019.
As well as Glasgow and Newcastle, McAleer & Rushe are building hotels for Dalata in Belfast and Dublin, bringing the latter's UK hotels to five with a total of circa 1,350 rooms.
Stephen Surphlis, property director at McAleer & Rushe, said: "The announcement of our latest lease deal with Dalata represents the growing confidence in key regional UK cities for hotel operators, particularly in Scotland. This major new four-star Maldron Hotel will be an exciting addition to this dynamic consumer and business hub."