Trade union Unite finds nearly a fifth of workplaces don't have adequate toilet facilities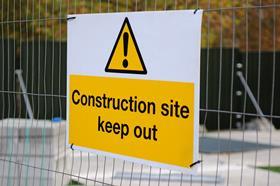 Men and women are forced to share toilets on nearly one fifth of construction sites as there are no separate facilities for women workers.
This is according to a survey from Unite which quizzed more than 3,500 of its members working in the construction sector.
It revealed 18% of respondents' workplaces did not have adequate toilet facilities, while 10% of sites didn't supply toilet paper.
Just over half (51%) said their workplace didn't have showers and even when these were provided, in 16% of cases there were no separate showers for women.
The supply of water on sites was also a major of concern: 17% didn't have drinking water, while 14% didn't supply cold water and 22% per cent of sites didn't provide hot water.
Unite assistant general secretary Gail Cartmail said: "Companies that fail to provide decent welfare facilities can and should be prosecuted and this is an area where Unite is working with the Health and Safety Executive to ensure standards are improved."