Trust board member says complex not being ready ahead of Commonwealth Games will be a 'disaster'
The team behind the Midland Met hospital being built in Birmingham has admitted it is struggling to meet its revised deadline of being finished ahead of next year's Commonwealth Games in the city.
The Smethwick hospital, which is now being built by Balfour Beatty after it was left half-built by Carillion following that firm's collapse more than three years ago, had earmarked a June 2022 completion date – one month before the games start.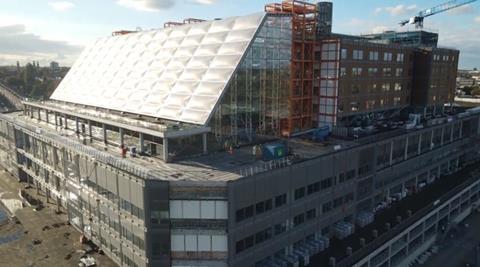 But the Sandwell and West Birmingham NHS Trust, the client on the job, said September next year was now looking more likely as an opening date, a move a member of the trust's board said would be a "disaster".
According to papers published for the trust's most recent board meeting at the start of this month, a non-executive Mick Laverty said: "It would be a disaster for the city if [the Midland Met] was not open by the Commonwealth Games and would be noticed by partners resulting in everlasting reputational damage."
The plan had been for the hospital, which will be the closest acute hospital to the centre of Birmingham, to be up and running to support the games which start on 28 July.
Restrictions caused by the covid-19 pandemic are being blamed for the problems with the hospital losing five days in January because of the imposition of a third national lockdown.
Project director for the trust, Austin Bell, admitted the September date was more likely but said there was hope a loosening of restrictions meant the summer opening had not yet been written off.
Bell, who spent more than 20 years at Carillion and helped the firm win the job, said a decision on the opening date should be deferred as much as possible to allow it as much time as possible to hit the June deadline.
Under Carillion's deal, the hospital was originally due to open in October 2018.
The trust has been contacted for comment.